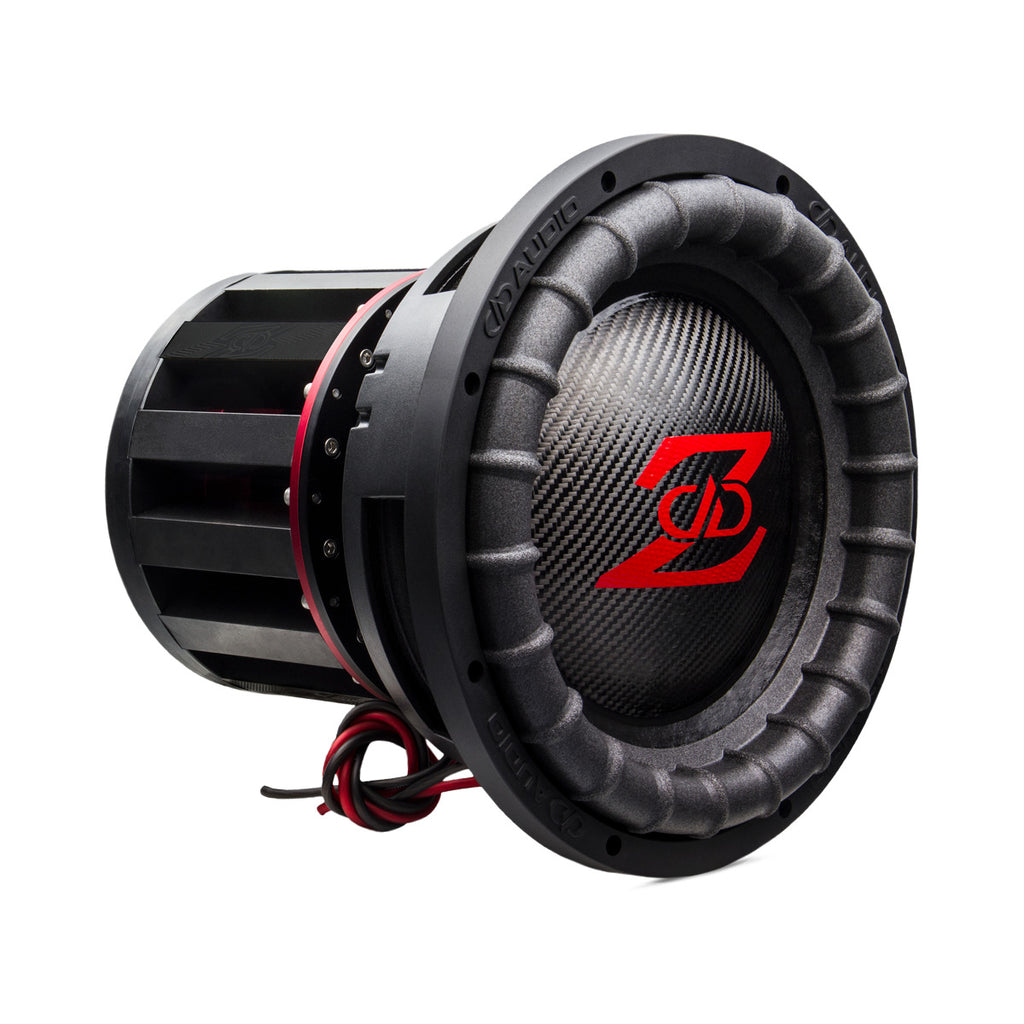 Digital Designs DD Audio Z12 12" Subwoofer
DD Audio 12" Z Series Subwoofer * Custom Order Only, Price Is Only A Guide.
Overview
In early 2005 the first ever iteration of the Z motor was launched. It forever changed the way people thought of a high-performance subwoofer and pushed the limits of car audio to new extremes. Over the years, many versions of Zs have been produced and this spirit of experimentation has driven us to constantly improve and innovate.
The current generation Z3 is a 13 lens grade 52 neodymium open motor design. This sub rightfully takes its place as one of the most dominant competition subs of all time even though it wasn't actually designed for competition. The motivation behind the Z was simply to build the best sounding high power handling driver of all time. We consider the Z mission accomplished, but not to rest on our laurels we identified key design elements that presented opportunities for improvement and went to work. The results are the latest versions of the Z3 drivers.
The USA steel motor parts are machined in our hometown of OKC, and all the moving parts are USA made from the finest materials and manufacturing methods available.
The current Z's feature several design improvements over previous models. We were able to overcome structural saturation levels and increase peak and total flux levels by allowing more energy to flow through our magnetic lens architecture via more efficient flux paths, closer alignment of the lenses and converging flux lines.
The Free Flow Cooling System was improved by incorporating longitudinal pole vents to increase airflow to the coil former. Then we Increased thermal mass and used heat absorbing coatings in target areas to aid in long term heat dissipation.
We also implemented geometric changes allowing for increased maximum excursion capability and a wider range of system design configurations.
The Z's striking cosmetics feature a black oxide coating combined with red anodized accents. The motors are also adorned with custom CNC engraved designs, and every motor is engraved with its production number, making each sub a one of a kind.
You'll notice the standard TS parameters are missing for the Z subs. This omission is on purpose because each Z is custom built to order which makes for Zillions of possible parameter sets making one static set of specs very prone to inaccuracy. The reason we build Zs CTO is it gives a system designer the utmost freedom to design for their specific application. The collection of Z subs are the moZt astounding sounding, moZt aurally accurate, and absolutely the moZt loudest subwoofer ever produced.
The Z Series subs also feature our Evolution Subwoofer Package (ESP). ESP equipped drivers sport larger diameter suspensions and deeper frames than standard subs and exclusive surround and cone designs. ESP subs are truly built to maximize performance in their designated size class.
The Z Series comes standard with an oversized dry finish black composite dust cap, red logo, and treated pulp cone, but it can be optioned out with custom suspension configurations, alternative composite dust caps, composite cones, powder coated frames, and a multitude of logo options to give your sub a personalized look and/or added performance for a specific application.
Any DD Audio Product bearing the Marine Grade logo incorporates water resistant features enabling it to be used in applications where moderate exposure to moisture will not result in damage to the product.
Marine Grade products are not waterproof, and submersion or excessive moisture exposure may result in product failure. DD Audio Marine Grade products are not certified for saltwater environments.
Specifications
Driver Size 12"
Watts RMS 1000 - 4000
Peak Power 8000
VCD 3.35
Impedance D0.5 / D1 / D1.5 / D2
Piston Dia – in 10
Frame OD – in  13 3/8
Frame OD w/Gasket – in  13 1/2
Mounting Diameter – in 12 3/16
Mounting Depth – in 11 1/2
Motor Diameter – in 9
Motor Depth – in 5 5/8
Woofer Displacement - cu ft 0.27
Sealed Enclosure - cu ft N/A
Ported Enclosure - cu ft 1.75 - 2.75
Shipping Weight – lbs 70