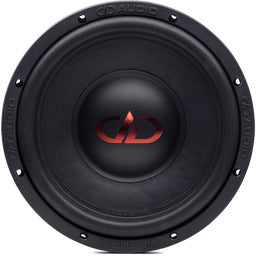 Digital Designs DD Audio 210-D4 10" Subwoofer
or make 4 interest-free payments of $57.49 AUD fortnightly with
More info
DD Audio DVC DD-210-D4


Overview
The 200 series is designed to provide some satisfying boom on as little as 100-300 Watts. Enhancing these sub's output efficiency is their smooth, wide bandwidth. They're hand built and tuned to work well in sealed enclosures as well as compact vented designs.
Any DD Audio Product bearing the Marine Grade logo incorporates water resistant features enabling it to be used in applications where moderate exposure to moisture will not result in damage to the product. 
Marine Grade products are not waterproof, and submersion or excessive moisture exposure may result in product failure. DD Audio Marine Grade products are not certified for saltwater environments.
Features
• EROM surround
• High-temp, 2.0", voice coil
• Double Layer Deep bass, high excursion spider system
• Unique glass fiber and natural pulp cone
• Back plate coil gap venting
• Extended pole piece
• DD stamped steel basket
Specifications 
• MODEL 210D
• Driver Size 10"
• Watts RMS 100 – 300
• Peak Power 900
• VCD 2
• Impedance D4
• Piston Dia – in 8 ½
• Fs – Hz 36.34
• Qms 5.861
• Qes 0.7299
• Qts 0.649
• Vas – liters 33.26
• Xmech – mm 64
• Xmax – mm 10
• Frame OD – in 10 1/8
• Frame OD w/Gasket – in 10 3/8
• Mounting Diameter – in 9 3/16
• Mounting Depth – in 4 15/16
• Motor Diameter – in 5 ½
• Motor Depth – in 2
• Woofer Displacement - cu ft 0.06
• Sealed Enclosure - cu ft 0.4 - 0.8
• Ported Enclosure - cu ft 1.25 - 1.5
• Shipping Weight – lbs 11